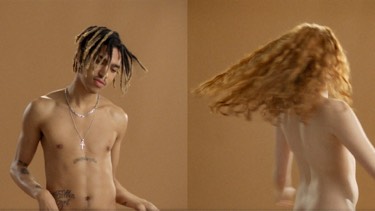 Our Mission
Equality and Inclusivity
We should be free in deciding how we shape our own sex lives. Unfortunately, this is currently often not the case. Women today are still judged on their sexual activeness in a way that men are not. That's why we strive for equal sexual relations for everyone. Because everyone should enjoy the freedom of living a sexual active life without being labelled a slut. Having sex does not make anyone less of a person or dishonourable. Say it louder for the people in the back.
Together with you, we are setting a movement in motion in which every form of diversity is the standard. The current market has a very diverse range of products. But no matter how diverse the range is, little consideration is given to most forms of human diversity. We think diversity is about every body being respected, no matter what the body looks like. Huzzy stands for inclusivity and celebrates every body type in it's own unconditional exceptionality.
True change is never achieved individually, and we are aware of that. That's why we are Girls first business partner at Plan International. Together we invest in protection against child marriage, sexual exploitation and teen pregnancies.
Sexual Health
We from Huzzy are mainly focusing on the mental and physical quality of life. Because you don't just have some body, you really are somebody. We are here to tell you to love every little part of both. When you feel damn good about both, you'll be more likely to find out what you like most. When you find out what you like most, you'll have more orgasms. More orgasms is better orgasms. Better orgasms will make you want more sex. Hell, it will even make you wanna try more. Wherever, However, Whoever.
We are not accepting anything other than the highest standards for the quality of our products. That's why instead of manufacturing far from home, we prefer working with our German partner who manufactures according to the highest European standards, and beyond.
A very large share of the current market is still mainly using animal substances like casein and mediocre quality rubber to keep production costs as low as possible. For your health and that of the environment, we see it as our mission to provide you with a clean and vegan condom and minimizing our use of plastic.
Sustainability
By using vegan materials and minimizing our use of plastic and air freight, we aim to reduce the environmental impact of our products. Of course we are aware of the fact that plastic is both the solution and the problem. However, in the meantime we do not intend to increase our use of plastic and are waiting until there is a concrete solution for the remaining plastic dilemma.
By using vegan condoms we avoid the use of the animal substance casein. Most brands still use this animal substance to increase the elasticity of condoms, but this can be solved, without affecting any of the quality, by using a natural alternative. We see it as our responsibility to break through the old-fashioned and polluting logistic lines. Therefore we have consciously chosen to cooperate with our German manufacturer.